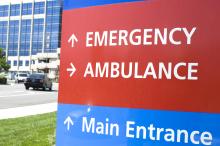 Those admitted to emergency departments may be among the most high-risk for suicide. A multi-site study found that a bundle of prevention strategies such as suicide risk screening, discharge resources, and brief interventions resulted in a five percent decrease in the proportion of patients who attempted suicide in the 52 weeks after their visit and a 30 percent drop in the total number of suicide attempts in that period. 1
Search for resources specific to Emergency Departments below.
1. Miller, I. W., Camargo, C. A., Arias, S. A., Sullivan, A. F., Allen, M. H., Goldstein, A. B., . . . Boudreaux, E. D. (2017). Suicide prevention in an emergency department population: The ED Safe study. JAMA Psychiatry, 74(6), 563–570.