Image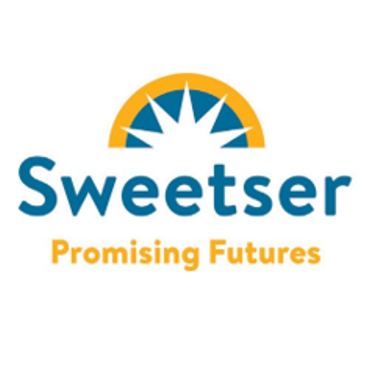 Inspired by the momentum of Zero Suicide in the field of health and behavioral health care, in 2013, Sweetser leadership—for the first time—added the goal to eliminate suicide among its clients as part of its strategic plan, where it remains a focus to this day. Over the past year, Sweetser's work of training clinicians has grown to include clinicians outside of the organization, which is due to a partnership on a grant awarded to the Maine Center for Disease Control and Prevention by the Substance Abuse and Mental Health Services Administration (SAMSHA). Currently, the Sweetser Training Institute offers free two-day workshops statewide to clinicians on the evidence-based Cognitive Behavioral Therapy specific to suicide prevention.
Key outcomes:
Client deaths by suicide have decreased from 0.05% in 2016 to 0.02% in 2019.
All Sweetser clinicians have been trained in suicide prevention.
Training in evidence-based Suicide Safer Care Practices has been expanded to all Maine clinicians.
About Sweetser
Sweetser (sweetser.org) is a nonprofit community mental health provider. With one of the most comprehensive networks of care in the state of Maine, Sweetser offers services to more than 20,000 children and adults each year, including mental and behavioral health, developmental, and educational services. Sweetser clinicians are located in the organization's special-purpose private schools and outpatient clinics as well as public schools and primary care organizations. In addition, Sweetser is the largest provider of mobile crisis intervention and crisis stabilization units in the state, with contracts serving more than half of the state's 16 counties. The organization's reach extends across the state via a network of practicing clinicians who are affiliated with Sweetser. This state-wide reach is important in Maine, whose residents represent the oldest population in the nation in one of the most rural states. An estimated 544,000 people of Maine's total population of 1.3 million live in rural areas.
Building the Platform for Zero Suicide
In 2012, David Covington, president of Recovery Innovations, Inc., and founder of the international initiative Zero Suicide, spoke at the National Council Conference. His presentation was compelling and inspired Sweetser Senior Director Leslie Mulhearn to bring the approach back to Sweetser for consideration and adoption. It was not long before Sweetser committed to the effort and added Zero Suicide implementation to its 2013 strategic plan. In the following year, Sweetser was selected to participate in the National Action Alliance for Suicide Prevention's (Action Alliance's) first Zero Suicide Academy. The effort to eliminate suicide among clients has been a focus ever since.
"Language was added to all job descriptions to follow Suicide Safe Care Practices as an emphasis that each employee plays a role in the Zero Suicide effort."

– Sweetser Senior Director Leslie Mulhearn
To start the implementation, Sweetser assembled a Zero Suicide Committee to be responsible for keeping the organization's focus on the strategic initiative by meeting monthly and remaining focused on the seven Zero Suicide elements recommended by the Action Alliance. Led by Mulhearn, the committee's membership includes supervisors of outpatient therapy and school-based services, an ACT (Assertive Community Treatment) Team Nurse, and a Crisis Services Provider. The committee also includes a client who has lived experience with suicide ideation. Employees on the committee include those who have a history of attempted suicide or are a family member of someone who died by suicide. This committee also includes members of Sweetser's support departments such as Information Systems and Finance.
One of the committee's accomplishments was the development of a pathway to guide clinical and support staff in the steps to take with a client who is experiencing suicide ideation but is at non-imminent risk and able to stay in the community. The resulting Clinical Pathway includes the following steps:
Means restriction
How often will the person be seen
How will the family member help out
What will be the response if the person misses an appointment
Notification of the primary care provider
Connection with evidence-based treatment
Discharge criteria from the Clinical Pathway
Another accomplishment was the addition of language to all job descriptions for following Suicide Safe Care Practices. This change was to emphasize that each employee plays a role in the Zero Suicide effort. Each year, all Sweetser employees, at both the clinical and nonclinical levels, are trained on suicide intervention and assessment. Sweetser also trains its licensed providers in the evidence-based practice Collaborative Assessment and Management of Suicidality (CAMS), one of Sweetser's core evidence-based practices.
Key Outcomes
Zero Suicide outcomes at Sweetser include tracking the number of attempts and the number of completions annually (for at least the past five years). This information is presented quarterly to the Quality Oversight Committee of the Board and annually to the Sweetser Board of Directors.
Two years ago, Sweetser also began tracking the following:
The types of services provided
The number of suicide screenings and risk assessments
Of those screened, how many indicated risks for suicide
The number of clients who attended at least one appointment
The number of clients who missed an appointment
As Sweetser expanded its staff from approximately 600 to 900 employees in spring 2018, with our persistent focus on Zero Suicide and training of new employees we were able to keep the number of suicide attempts and suicide deaths down.
Figure 1: Suicide attempts and deaths among all clients served, 2015–2019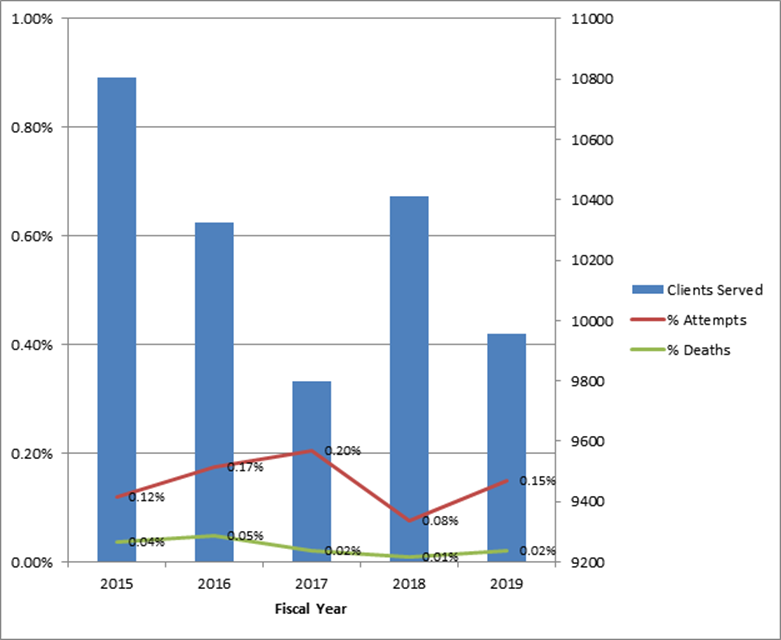 Improving Care in the Future
Sweetser's goal is to improve data transparency by supplying supervisors and staff with a dashboard tool. Data tracked within the electronic health record (EHR), and meaningfully representative of the measures and objectives defined by the program, will be visually displayed in a Web-accessible application in near real time. One such measure that has been adopted by all programs across the organization is monitoring clients who are on the pathway. This work will continue after the 2019 installation of the new EHR system is complete.
Authorship Details
Leslie Mulhearn, LCSW, CSP, Senior Director
For more information contact Leslie Mulhearn at lmulhearn@sweetser.org.