Image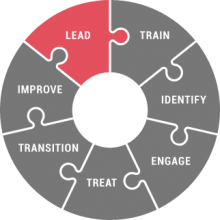 Lead
Lead system-wide culture change committed to reducing suicides.
Lead

Leadership and Zero Suicide

Organizational leadership is vital to the ongoing success of Zero Suicide implementation and is interwoven with every element of the framework. In Zero Suicide, LEAD represents a commitment that goes beyond one person, one leader, one department. This system-wide commitment is vital for the framework to take root and lead to sustainable systems-level changes and better quality care. Implementation of the Zero Suicide framework is not linear and will be specific to your organization, the services you provide, and the community you serve. To successfully implement Zero Suicide with fidelity, strength and commitment of leadership is required to determine the direction needed to best serve individuals at risk of suicide seeking support and healing from your care providers. 

There are a few key areas in which leadership drives the dramatic reduction in suicide deaths achieved by organizations implementing Zero Suicide. The first is leadership mobilizing staff to truly believe that suicide can be prevented and that doing so is a system-wide priority that is the responsibility of every staff person. The second is an unwavering focus on the goal of reducing suicides — ideally, to zero. Leadership must both help staff see and believe that suicide can be prevented and provide tangible supports in a safe and blame-free environment — what is known as just culture. Along the way, implementation will require that care providers change and adjust how they support individuals at risk of suicide using thoughtful safer suicide policies and processes at the organizational level. In order to achieve staff buy-in and support, the third key leadership area emerges as leaders at all levels make themselves available to listen, support, and reinforce the necessary changes to support suicide-safer care within their organization. 

Zero Suicide calls leaders to use opportunities to improve care driven by data, research and best practices, and feedback from staff, patients, and experts alike. Leaders must be prepared to tell the story of why Zero Suicide, why this organization, and why now so that staff members understand that Zero Suicide is not simply another healthcare initiative, but rather an evidence-based way of providing care that can help save lives.

In a Zero Suicide approach:

Your organization has guidelines specific to suicide care.
The guidelines emphasize the importance of the core components of safer suicide care, covered in detail in the seven sections of this Zero Suicide Toolkit:

LEAD 

system-wide culture change committed to reducing suicides
TRAIN a competent, confident, and caring workforce
IDENTIFY patients with suicide risk via comprehensive screenings
ENGAGE all individuals at-risk of suicide in a suicide care management plan
TREAT suicidal thoughts and behaviors using evidence-based treatments
TRANSITION individuals through care with warm hand-offs and supportive contacts
IMPROVE policies and procedures through a continuous quality improvement plan

The organization's culture supports the well-being of all staff in tangible and accessible ways, with a commitment to do so spelled out within the guidelines. This support is made especially available to those doing hands-on work with those at risk of suicide. Care providers who are supported are better able to support others. Team members must be provided with the training, support, and guidance that empowers them to approach care provision with confidence and competence. 
There is ongoing communication with management and staff.

Your CEO or another member of senior management conducts a presentation about the Zero Suicide philosophy, approach, and key elements to the board of directors.
Your CEO and Implementation Team communicate the Zero Suicide philosophy, rationale, approach, and merits of this initiative to staff and establish a process for regular updates, at least annually.
Changes as a result of your Zero Suicide initiative, including patient outcomes, are communicated to staff at all levels.
Your implementation team provides management with training on the Zero Suicide philosophy, essential elements, and implementation plan.
Leadership at all levels are empowered to provide staff with the support that they need to successfully improve how they provide care to patients, and steps are taken to ensure fidelity to the model.
Your CEO and implementation team state a commitment to transparency and a no-blame culture when adverse events do occur.

 

Questions

What type of formal commitment have we made to reduce suicide and provide safer suicide care among people who use our organization's services? Who will be the champions of Zero Suicide within our organization? Are those with lived experience of suicide attempt and loss in leadership and planning roles?

 

To Implement Zero Suicide

Leading Change Toward Better Suicide Care Management

© 2016 EDC All Rights Reserved

Strategies for involving leadership in a Zero Suicide initiative.

There are several important steps to take within the LEAD element that will prepare an organization to successfully implement Zero Suicide. While the framework is not mean to be linear in its implementation, the steps taken as part of LEAD pave the way for every other element in the framework. LEAD is a major touchstone for every other element and remains vital to the success of Zero Suicide at every turn. The LEAD steps include:

Establishing your Zero Suicide implementation team. The team is responsible for building and providing the foundation for your organization's Zero Suicide work.
Completion of the Zero Suicide Organizational Self-Study by members of your implementation team. You will use the results to determine priorities and set organizational goals. For more information and to view the self-study, please visit the Organizational Self-Study tab (above in the LEAD element toolbar).
Establishing the roles that those with lived experience will play, both on your implementation team and within your organization as Zero Suicide is rolled out. Those with lived experience include those who have lost a loved one to suicide, supported a loved one on their path through experiences with suicide, as well as those who have experience with suicidal thoughts and/or attempts themselves. Individuals with lived experience play an important role in ensuring that an organization is suicide safe and person-centered in their services. As organizations establish themselves as committed to the goals of Zero Suicide, it is quite common for staff with lived experience to step forward as leaders. For a discussion of the vital role that those with lived experience play in Zero Suicide implementation, including more discussion on involving suicide attempt survivors, please visit the Lived Experience tab (above in the LEAD element toolbar).

Each section of the Zero Suicide Toolkit describes a core component of the approach, including specific features that organizational policies should contain.

 

Zero Suicide and Responding to Organizational Staff Changes

Implementation of Zero Suicide is not a temporary initiative but, rather, a systems-level change in your culture around suicide care. It is vital that the guidelines that make up the framework for Zero Suicide implementation are structured in such a way that the success of the initiative is not dependent on one individual or even a small group of committed and passionate leaders and team members and, instead, takes root and flourishes system-wide. Zero Suicide must be baked into the core of your organization's approach to patient care so that responding to organizational turnover does not require a re-commitment to Zero Suicide and safer suicide care from the ground up. Staff turnover at any level can lead to a stall in progress and being prepared in advance with a plan to respond can help minimize impact.

In order to do so, your leadership and implementation team must consider documenting not only the guidelines that make up the foundation of your organization's Zero Suicide implementation, but also those positions that are responsible for ensuring fidelity to the model and communicating your organization's culture and commitment around safer suicide care to new employees in all departments, including leadership. Some ways to do this might include: 

At the executive leadership level:

Board members share their commitment to Zero Suicide and consider the framework important to the organization's vision and future.
As new leaders are brought on, they are introduced to (and agree to support) the organization's ongoing commitment to safer suicide care through the Zero Suicide initiative. If possible, this is discussed as part of the hiring or selection process. 
The implementation team has created, with contributions from current leaders, guidelines for how leaders at this level can be onboarded to support safer suicide care through Zero Suicide while leaving room for new leaders to innovate in ways that support implementation.
The steps to becoming informed are laid out in the guidelines, including who is responsible for providing support to new leadership in understanding the Zero Suicide framework and being brought up to speed on its progress. Ideally, this should involve leaders at all levels who are able to provide an overview of their team's responsibilities, progress, challenges, and successes.

At the administrative and management level

HR is engaged to ensure that values related to safer suicide care through Zero Suicide are built into job descriptions and new employee orientation. Your Zero Suicide implementation team can also work with HR to map out ongoing training requirements based on role. Institute for Family Health developed a training policy and crosswalk with job descriptions available on our website here.
Administrative and managerial applicants understand from the beginning that Zero Suicide is part of the organization's culture. This starts with mentioning the organization's commitment to safer suicide care from the start and building it into hiring processes and tools. As a result, new leaders understand from the start the roles that they, as well as their teams, play in providing safer suicide care to individuals in care.
Champions of Zero Suicide at all levels have the opportunity to meet with new leaders and orient them to the framework.
Team members are provided with the opportunity to meet with new leaders and discuss their experiences with carrying out Zero Suicide with individuals in their care, including what has gone well, those things that have been challenging, and feedback for team-level improvement.
New leaders are provided with written guidelines for their role, and that of their team, within Zero Suicide implementation that have been prepared by the Implementation Team, with feedback from the previous leader, if possible.
New leaders understand that everyone has a role to play in providing safer suicide care, and that, in supporting their team members in their successes and challenges, the organization operates within a just culture approach and how this is operationalized.

At the team level:

Applicants for all roles understand from the beginning of the employment process that one of the organization's goals is to have zero suicides among individuals in their care. Applicants understand what is means to operate within a just culture and that everyone in the organization has a role to play in providing safer suicide care.
New team members have a clear understanding of their role within their team in the context of Zero Suicide and are provided with the training and support required to approach these responsibilities with confidence and competence.
There is a clear understanding of how team members can seek out support from their leaders, whether in the context of providing care to individuals seeking services, or because they themselves are in need of support.
There are written guidelines for onboarding new team members to the Zero Suicide framework that have been created in-line with the responsibilities of the team and role. These guidelines were created by the Implementation Team with feedback from the team so that they are specific and clear.

The Zero Suicide Bullseye

© 2016 EDC All Rights Reserved

Moving suicide prevention to a central focus in behavioral health care.

Integrating Zero Suicide with other Healthcare System Initiatives

The Zero Suicide framework need not stand on its own or cancel out the implementation of other important initiatives in healthcare. While the goal and approach of Zero Suicide is unique, the focus on providing evidence-informed care in an environment where safety, accountability, compassion, and respect are priorities is not. There are many healthcare initiatives with which Zero Suicide integrates, and that in doing so, the implementation of each initiative is strengthened.

Mike Hogan, co-chair of the Zero Suicide Advisory Group of the National Action Alliance for Suicide Prevention, talks about applying the core concepts of the patient safety movement to prevent suicide:

 

Zero Suicide in Health and Behavioral Health Care
Organizational Self-Study

Taking the Organizational Self-Study

About the Organizational Self-Study

The Zero Suicide Organizational Self-Study is designed to allow you to assess what core elements of safer suicide care your organization currently has in place. The self-study can be used early in the launch of a Zero Suicide initiative to assess organizational strengths and weaknesses and to develop a work plan. While the self-study is not exhaustive with regard to all issues that can affect patient care and outcomes, it reflects the core components that define the Zero Suicide comprehensive approach.

The organization's Zero Suicide implementation team should complete the self-study, with input from staff involved in the creation of foundational guidelines and care for patients at risk for suicide. There are a variety of ways for the implementation team to conduct the self-study, depending on the type and size of the organization.

For example, a large, multi-site organization might ask the leader of each geographic location to complete the self-study for that location. The results could inform individualized planning for each location and at the same time suggest actions that the corporate leadership may need to take.

Since each member of the implementation team will likely be the leader of a significant area of the organization, another option is to have all the team members complete the self-study. A designated team member could consolidate the ratings, which could be a starting point for a discussion of goal setting and work plan development. Alternatively, the team might complete one self-study together, coming to consensus on each item.

Accessing the Organizational Self-Study

The Zero Suicide Organizational Self-Study is available in two versions:

General organizational self-study. This version is designed for systems with multiple departments, outpatient behavioral health settings, integrated treatment for co-occurring disorders, primary care, FQHCs, and other settings that provide care and services to individuals at risk for suicide.

Inpatient organizational self-study. This version is designed for organizations that have a primary focus on inpatient health and behavioral health care. These may include more intensive levels of care – such as partial hospitalization – or intensive outpatient programs if managed under the inpatient organizational structure.

There are PDF versions of both the General and Inpatient Organizational Self-Study available for your review. We strongly encourage you to log-in and use the online portal to input your data. Using the portal will give you access to a report and annual reminders to retake it as a fidelity tool.
Lived Experience

Involving People with Lived Experience

For an organization implementing Zero Suicide, one of the first actions should be to partner with people with lived experience in developing, implementing, and evaluating efforts. For example, your Zero Suicide implementation team should include at least one person with lived experience. Including those with lived experience provides many valuable and impactful benefits that support your organization's success with Zero Suicide implementation: most importantly, providing high-quality, compassionate, and collaborative care to those individuals at risk of suicide. Amplifying the voices of those with lived experience can allow your organization to better understand the impact of your services and create a system of care in which individuals feel respected, heard, and safe. Additionally, by consulting with those with lived experience as a loved one of an individual with suicide risk, as well as those who have experienced suicide loss, your organization can build a system of care that takes into account the vitality of support networks while also respecting the privacy of those in care.

Similarly, by creating an opportunity for those who are in care, or those who have previously been in care, to share their feedback, your organization makes clear that they are committed to patient-centered care and are eager to learn how they can provide better support to individuals at risk of suicide.

The Suicide Attempt Survivors Task Force of the National Action Alliance for Suicide Prevention recently issued the report The Way Forward: Pathways to Hope, Recovery, and Wellness with Insights from Lived Experience. The report offers a set of core values to inform suicide prevention and care as well as specific recommendations for health and behavioral healthcare organizations and program developers.

 

Lived Experience: What It Is and How to Include It

© 2018 EDC All Rights Reserved

Involving people with lived experience in leadership.

Suggestions for Involvement

The Way Forward suggests several ways in which people with lived experience can be involved in improving suicide care:  

Suicide prevention and behavioral health care organizations can engage, hire, and/or collaborate with peer support professionals. They should also include attempt survivors as key partners in suicide prevention and safer suicide care efforts.
Providers of crisis or emergency services can develop formal partnerships with organizations that offer peer support services and especially organizations that are operated or driven by people with lived experience.
Suicide prevention and behavioral health groups can engage attempt survivors as partners in developing, implementing, and evaluating efforts.
All types of providers can use a certified peer specialist on care coordination teams. This involvement can have direct benefits for a person receiving care, including role modeling and improved problem-solving.1

A Lived Experience Story About What Makes a Difference

© 2018 EDC All Rights Reserved

How positive interactions with staff promote recovery.

Recommended Resources

Image

Role of Peer Support Services in Caring for Those at Risk of Suicide

Image

Trauma Informed Care Image.PNG

 
Next Steps

Create a Leadership Culture for Safer Suicide Care

Are you ready to implement safer suicide care through Zero Suicide in your organization? If so, the next steps to create a leadership culture that supports safer suicide care are:

In this short video, Zero Suicide Institute faculty member Dr. John Ackerman and Dr. Glenn Thomas describe Nationwide Children's Hospital's experience implementing Zero Suicide, highlighting key success factors such as strong leadership support, focused tools and training for clinical staff, a well-established quality improvement infrastructure, and the input of clinicians from across the hospital and individuals with lived experience:

 

Responding as a System: Zero Suicide at Nationwide Children's Hospital

© 2020 EDC All Rights Reserved