Image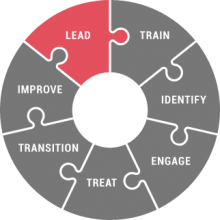 Lead
Lead system-wide culture change committed to reducing suicides.
Lead

Leadership Drives

Two leadership drives are the keys to the dramatic reductions in suicide deaths achieved by Zero Suicide organizations. The first is leadership mobilizing staff to believe that suicide can be prevented. The second is an unwavering focus maintaining that zero suicides is the goal. Leadership must both convince staff to see and believe that suicide can be prevented and provide tangible supports in a safe and blame-free environment—what is known as a just culture.

In a Zero Suicide approach:

The organization has a policy specific to suicide care.
The policy emphasizes the importance of the core components of safer suicide care, covered in detail in the seven sections of this Zero Suicide Toolkit:
The organization's policy specifies a program for preventing compassion fatigue among all staff who interact with patients at risk of suicide.

Questions

What type of formal commitment have we made to reduce suicide and provide safer suicide care among people who use the organization's services? Are the suicide bereaved and those with lived experience in leadership and planning roles?

To Implement Zero Suicide

Establish a Zero Suicide Implementation Team 

Leading Change Toward Better Suicide Care Management

© 2016 EDC All Rights Reserved

Strategies for involving leadership in a Zero Suicide initiative.

A Zero Suicide implementation team is established with the charge, tasks, and roles of members clearly defined, including:

A schedule for regular team meetings
Authority for changing policies and procedures
An evaluation plan designed to assess the impact of the initiative
Responsibility for continuous quality improvement and the development of specific approaches to measuring and reporting on all suicide deaths

The suicide bereaved and those with lived experience are part of the Implementation Team and participate in some or all of the following activities:

Providing regular input and advice
Assisting with workforce hiring and/or training
Participation in evaluation and quality improvement efforts
Participation in multiple aspects of suicide care

The Implementation Team completes a Zero Suicide Organizational Self-Study and uses the results to set organizational goals.
A budget supports Zero Suicide implementation.
The Implementation Team explores ways to link Zero Suicide to other initiatives, such as trauma-informed care or substance abuse prevention and treatment programs.
The Team reviews all of the organization's policies to determine what new policies need to be developed. Policies and procedures include:

Approaches to measuring and reporting on all suicide deaths
Supports provided to staff that have experienced suicide death of a client

Suicide care planning is embedded in the electronic health record
Staff is trained on use of the electronic health record to track clients at risk for suicide.

For more information about the Self-Study and to view the tool, go to the Organization Self-Study tab. For more discussion on involving suicide attempt survivors, go to the Lived Experience tab. Each section of the Zero Suicide Toolkit describes a core component of the approach, including specific features that organizational policies should contain.

Ongoing Communication with Management and Staff

The CEO or another member of senior management conducts a presentation about the Zero Suicide philosophy, approach, and key elements to the board of directors on Zero Suicide. 
The CEO and Implementation Team communicate the Zero Suicide philosophy, rationale, approach, and merits of this initiative to staff and establish a process for regular updates, at least annually.
Changes as a result of the Zero Suicide initiative, including patient outcomes, are communicated to staff.
The implementation team provides management with training on the Zero Suicide philosophy, essential elements, and implementation plan.
The CEO and implementation team state a commitment to transparency and a no-blame culture when adverse events do occur.

The Zero Suicide Bullseye

© 2016 EDC All Rights Reserved

Moving suicide prevention to a central focus in behavioral health care.

 
Organizational Self-Study

Taking the Organizational Self-Study

About the Organizational Self-Study

The Zero Suicide Organizational Self-Study is designed to allow you to assess what core elements of safer suicide care your organization currently has in place. The self-study can be used early in the launch of a Zero Suicide initiative to assess organizational strengths and weaknesses and to develop a work plan. While the self-study is not exhaustive with regard to all issues that can affect patient care and outcomes, it reflects the core components that define the Zero Suicide comprehensive approach.

The organization's Zero Suicide implementation team should complete the self-study, with input from staff involved in policymaking and care for patients at risk for suicide. There are a variety of ways for the implementation team to conduct the self-study, depending on the type and size of the organization.

For example, a large, multi-site organization might ask the leader of each geographic location to complete the self-study for that location. The results could inform individualized planning for each location and at the same time suggest actions that the corporate leadership may need to take.

Since each member of the implementation team will likely be the leader of a significant area of the organization, another option is to have all the team members complete the self-study. A designated team member could consolidate the ratings, which could be a starting point for a discussion of goal setting and work plan development. Alternatively, the team might complete one self-study together, coming to consensus on each item.

Accessing the Organizational Self-Study

The Zero Suicide Organizational Self-Study is available in both Online and PDF formats. Organizations can choose to take the General or Inpatient versions or both. Find out more by clicking the link below
Lived Experience

Involving People with Lived Experience

Until recently, the field of suicide prevention has rarely tapped the first-person knowledge of suicidal behavior and real-world wisdom that suicide attempt survivors bring to the table. The field, along with health and behavioral health care organizations, is now beginning to engage the people with the most intimate information about suicidal thoughts, feelings, and actions—those who have lived through such experiences.

The Suicide Attempt Survivors Task Force of the National Action Alliance for Suicide Prevention recently issued the report The Way Forward: Pathways to Hope, Recovery, and Wellness with Insights from Lived Experience. The report offers a set of core values to inform suicide prevention and care as well as specific recommendations for health and behavioral healthcare organizations and program developers.

For the organization developing a Zero Suicide approach, one of the first actions should be to partner with people with lived experience in developing, implementing, and evaluating efforts. For example, a Zero Suicide Implementation Team should include at least one person with lived experience.

Lived Experience: What It Is and How to Include It

© 2018 EDC All Rights Reserved

Involving people with lived experience in leadership.

Suggestions for Involvement

The Way Forward suggests several ways in which people with lived experience can be involved in improving suicide care:  

Suicide prevention and behavioral health care organizations can engage, hire, and/or collaborate with peer support professionals. They should also include attempt survivors as key partners in suicide prevention efforts.
Providers of crisis or emergency services can develop formal partnerships with organizations that offer peer support services and especially organizations that are operated or driven by people with lived experience.
Suicide prevention and behavioral health groups can engage attempt survivors as partners in developing, implementing, and evaluating efforts.
All types of providers can use a certified peer specialist on care coordination teams. This involvement can have direct benefits for a person receiving care, including role modeling and improved problem-solving.1

A Lived Experience Story About What Makes a Difference

© 2018 EDC All Rights Reserved

How positive interactions with staff promote recovery.

Recommended Webinars

Image

Role of Peer Support Services in Caring for Those at Risk of Suicide

Image

Trauma Informed Care Image.PNG

 
Next Steps

Create a Leadership Culture for Safer Suicide Care

The basic next steps to create a leadership culture to provide safer suicide care are:

Use the Quick Guide to Getting Started with Zero Suicide to get an overall vision of the path you will take to adopt this comprehensive suicide care approach.