Image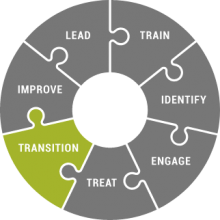 Transition
Transition individuals through care with warm hand-offs and supportive contacts.
Transition

Care Transitions

Care transitions are high-risk times for patients.1 Caregivers and clinicians must bridge patient transitions from inpatient, ED, or primary care to outpatient behavioral health care.

It is equally important to address suicide risk at every visit within an organization, from one behavioral health clinician to another or between primary care and behavioral health staff in integrated care settings.

The burden lies on the provider, rather than on the patient and family members, to develop systems to ensure that patients make and keep appointments.

In a Zero Suicide approach:

Organizational policies provide guidance for successful care transitions and specify the contacts and supports needed throughout the process to manage any care transition.
Follow-up and supportive contacts for individuals on a suicide care management plan, also called a pathway to care, are tracked and managed using an electronic health record or paper record.

Questions

What is our approach to ensuring continuous contact with hard-to-reach individuals or those who are transitioning in care?

To Implement Zero Suicide

Develop Policies for Safe Care Transitions

Develop internal written policies and procedures—and contracts or memoranda of understanding with outside organizations, including local crisis centers— for safe care transitions:

When the patient is referred to a provider or service both within or outside of your organization
When the patient transitions to another organization or provider in the community
When the patient terminates services, either independently or in agreement with the care provider
When the patient repeatedly misses appointments
Following a patient's contact with crisis services
At discharge from an ED or a psychiatric hospital

Train staff on policies and procedures for safe care transitions.
Ensure that patients receive education about the model of care and the rationale for treatment as they move from one clinician to another, or from one agency/setting to another.
Monitor to ensure that care transitions are documented and flagged for action in an electronic health record or a paper record.

At the tabs above, you'll find information about specific transition strategies and the role of crisis center services in ensuring safe care transitions.

1. Bickley, H., Hunt, I. M., Windfuhr, K., Shaw, J., Appleby, L., & Kapur, N. (2013). Suicide within two weeks of discharge from psychiatric inpatient care: A case-control study. Psychiatric Services, 64(7), 653–659. Retrieved from http://ps.psychiatryonline.org/doi/abs/10.1176/appi.ps.201200026
Safe Care Transitions

Ensuring Safe Care Transitions

Lived Experience: Aftercare That Makes a Difference

© 2018 EDC All Rights Reserved

A lived experience expert discusses transitions through care.

The Need for Safer Transitions

Consider the following findings from the 2008–2012 data from the National Survey of Drug Use and Health.

Of the adults who reported that they had attempted suicide in the past 12 months:

43% received no mental health treatment even though 60% of those who attempted suicide had received medical attention for the suicide attempt, and 43% had stayed overnight in a hospital. 
60% did not participate in any outpatient mental health visit.
48% of those receiving mental health treatment received prescription medication for a mental health disorder.1

This is insufficient care for someone with suicidal thoughts, let alone someone who has attempted suicide. But when organizations use effective clinical bridging strategies, it can triple the odds that a patient will link to outpatient care.2

Emerging Standards

The emerging standard in suicide care requires innovative approaches to creating smooth and uninterrupted care transitions from one setting to another with support and contact provided throughout by the behavioral health provider, physician, or other designated staff from the organization.3

Specifically, the referring clinician or other staff member should:

Revise the patient's safety plan before discharge or referral
Ensure the patient has spoken by phone with the new provider 
Send patient records several days in advance of the appointment to the new treatment provider
Call the new provider to go over patient information before the first appointment
Contact the patient within 24–48 hours after they have transitioned to the next care provider and document the contact

The electronic health record (EHR) plays a key role in assuring the following:

Patient appointments inside or outside an organization are recorded.
No-shows are flagged and actions are taken to locate the person, ensure their safety, and reschedule the appointment or link them to a higher level of care if necessary.
Patient information—especially information about suicide risk and previous care—is transmitted to the receiving provider. 

Of course, organizations should obtain patient consent to share patient health information. 

Safe Care Transitions

To ensure continuity of care for suicide risk, it's important to remove barriers to scheduling a patient's follow-up appointments. Organizations should establish agreements or subcontracts between acute care settings and outpatient providers to ensure recently discharged high-risk patients have appointments within 24 hours.

Warm Hand-Off

The goal of a warm hand-off is to increase the likelihood that a patient will follow up on a referral to one provider from another. Rather than simply providing the name and phone number of a provider, as happens frequently, a warm hand-off connects the patient with the new provider before the first appointment. 

An example of a warm hand-off would be when an emergency department, primary care, or inpatient staff member facilitates a phone call between a patient and an outpatient provider before the patient's first appointment with that provider. The contact can also be made in person or with an interim contact, such as a crisis center worker or peer specialist, who will follow up to encourage the patient to keep the appointment.

Rapid Referral 

Rapid follow-up and referral involves taking steps during an emergency department visit or before discharge from inpatient care to facilitate immediate access to an outpatient treatment appointment for the patient, preferably within 24–48 hours after discharge. To facilitate rapid referral, it may be helpful to establish agreements with outpatient providers to accept rapid follow-up referrals.

Organization policies should provide for: 

Scheduling the first outpatient appointment before the patient is discharged, if the outpatient provider is reachable 
Leaving a message with the outpatient provider to request priority scheduling for the patient upon discharge, if the provider is not reachable 

Caring Contacts

Caring contacts are brief communications with patients during care transitions such as discharge from treatment or when patients miss appointments or drop out of treatment. These contacts, through which care providers continue to show support for a patient, can promote a patient's feeling of connection to treatment and increase his or her participation in collaborative treatment. Caring contacts may be especially helpful for patients who have barriers to outpatient care or are unwilling to access this care.

Examples of caring contacts include: 

Postcards, letters, e-mail messages, and text messages. Automated systems can be used to send any of these, as can some EHR systems.4 Some EHRs allow for two-way communication between client and provider, which can help maintain support for the client between appointments.
Phone calls made by clinical or non-clinical staff, including peers who have experienced a suicide attempt. Individuals making phone contacts must be trained. 
Home visits

Organizations should consider establishing an agreement with a local crisis center that can provide these caring contacts with recently discharged patients. The Role of Crisis Centers tab, above, includes information about the services that crisis centers offer in support of patients at risk of suicide. 

Other Bridging Strategies

The following are more examples of transition strategies:

Brief patient education that helps the patient understand his or her condition and what treatment options exist to facilitate patient and family follow-through
Assistance with understanding and navigating the system of potential supports, preferably from a peer. Sometimes called peer- or community-bridging
Onsite counseling by staff from a community-based organization who can then see the patient for follow-up care after discharge
Providing the patient with a copy of his or her safety plan or updating a safety plan to make sure it is relevant for the current level of care

1. Han, B., Compton, W. M., Gfroerer, J., & McKeon, R. (2014). Mental health treatment patterns among adults with recent suicide attempts in the United States. American Journal of Public Health, 104(12), 2359–2368. Retrieved from https://www.ncbi.nlm.nih.gov/pmc/articles/PMC4232111/
2. Boyer, C. A., McAlpine, D. D., Pottick, K. J., & Olfson, M. (2000). Identifying risk factors and key strategies in linkage to outpatient psychiatric care. American Journal of Psychiatry, 157(10), 1592–1598. Retrieved from https://www.ncbi.nlm.nih.gov/pubmed/11007712
3. Knesper, D. J. (2011). Continuity of care for suicide prevention and research. Newton, MA: Education Development Center. Retrieved from http://www.sprc.org/sites/default/files/migrate/library/continuityofcar…
4. Berrouiguet, S., Gravey, M., Le Galudec, M., Alavi, Z., & Walter, M. (2014). Post-acute crisis text messaging outreach for suicide prevention: a pilot study. Psychiatry Research, 217(3), 154–157. Retrieved from https://www.ncbi.nlm.nih.gov/pubmed/24736112
Role of Crisis Services

Using Crisis Services to Augment Care

Follow-Up Matters

 

 

 

 

 

Defining Crisis Services

In the field of suicide prevention, the term crisis services has often meant a hotline or helpline model of care, such as counselors staffing phone lines or, increasingly, text or chat lines assisting often anonymous callers with a suicidal or behavioral health crisis. In some cases people with ongoing suicidal thoughts or chronic mental illness may use this kind of crisis support to cope with emerging thoughts of suicide or distress. Crisis centers provide this confidential service 24/7. 

Crisis services can also include:

Mobile crisis teams
Walk-in crisis clinics
Hospital-based psychiatric emergency services
Peer-based crisis services
Care coordination services, which have been shown to positively impact outcomes, increase attendance in outpatient appointments, and lower readmission rates for high-utilizing patients.1
Other programs designed to provide assessment, crisis stabilization, and referral to an appropriate level of ongoing care 

Crisis centers can also serve as a connection with the patient between outpatient visits. These services can be particularly helpful for patients with barriers to accessing outpatient mental health services.

For more information on starting a follow-up partnership with a National Suicide Prevention Lifeline Network crisis center, including guidelines, tools, and other helpful resources, please visit the Follow-Up Matters website, linked to the right.

Incorporating Crisis Services

Providing a full range of crisis services can reduce involuntary hospitalizations and suicides when paired with mental health follow-up care.2 Communities should offer a full continuum of services designed to provide the right care at the right time and support an individual's ability to cope with suicidal thoughts or feelings. 

To incorporate the use of crisis services, health and behavioral health organizations should:

Make formal agreements or subcontract with crisis centers to provide follow-up services for their patients 
Provide written information with the crisis center phone number to every patient with suicide risk as part of a formal safety plan
Provide every patient with crisis center information upon discharge from treatment
Explain the purpose, utility, and services offered by the crisis center to every patient and his or her family, both at the start of treatment as well as at discharge
Obtain patient consent prior to discharge from inpatient or emergency department care for a crisis center to provide follow-up support in the form of phone calls

Crisis centers that are members of the National Suicide Prevention Lifeline follow best practices in assessing suicide risk and imminent risk and have access to a national network of crisis center peers and resources. Crisis lines for veterans, people who are deaf or hard-of-hearing, and Spanish speakers are also available. Some crisis lines provide translation for a number of different languages. 
Next Steps

Ensure Safe Transitions in Care

The basic next steps to ensure safe transitions for patients at risk of suicide are to:

Review and develop processes and policies for safe care transitions within the organization
Review and develop processes and policies for safe care transitions between the organization and other organizations and providers.
Establish use of the EHR or paper record to document patient care transitions and share information about suicide risk among providers.

There are several additional items to help you plan these next actions:

Quick Guide to Getting Started with Zero Suicide

This one-page tool lists ten basic actions to take to implement a Zero Suicide initiative. Use this tool to get an overall vision of the path you will take to adopt this comprehensive suicide care approach.

Zero Suicide Organizational Self-Study

Every organization should complete the self-study as one of the first steps in adopting a Zero Suicide approach. While the self-study is available in the Lead section of the Zero Suicide online toolkit, it's provided again here for your convenience.

Zero Suicide Work Plan Template

This form contains an expanded list of action steps to guide your implementation team in creating a full work plan to improve care and service delivery in each of the seven core Zero Suicide components.