Image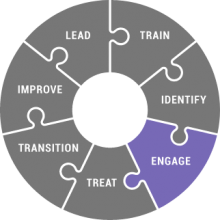 Engage
Engage all individuals at-risk of suicide using a suicide care management plan.
Engage

Engaging Patients

The Suicide Care Management Plan: A Pathway to Suicide Safer Care

© 2016 EDC All Rights Reserved

How Centerstone engages clients in a suicide care pathway.

When an organization makes a commitment to Zero Suicide, every individual who is identified as being at risk for suicide is closely supported. This means they are engaged and re-engaged at every encounter no matter the reason for the visit.

We call this plan for continuous engagement a Suicide Care Management Plan or a pathway to care.

Organizations that have reported the most success providing individuals with a pathway to care use the electronic health record (EHR) to flag patients at risk of suicide.

In a Zero Suicide approach:

All individuals identified to be at risk of suicide are engaged in a Suicide Care Management Plan.
The patient's status on a suicide care management plan is monitored and documented in an electronic health record (EHR).

Question

What is our approach to caring for and tracking individuals at risk for suicide? 

To Implement Zero Suicide

Design Suicide Care Management Policies

Design policies and procedures for engaging a patient in a Suicide Care Management Plan, which should specify the following:

The screening tool and criteria to indicate that the patient should be engaged in a suicide care management plan
Provision of same-day access to a behavioral health professional for formulation of a clinical judgment of risk using a standard risk formulation framework
Requirements and protocols for safety planning, crisis support planning, and lethal means safety
The frequency of visits for a patient with a suicide care management plan and actions to be taken when the patient misses appointments or drops out of care
The process for communicating with a patient about diagnosis, treatment expectations, and what it means to have a suicide care management plan
Requirements for continued contact with and support for the patient, especially during transitions in care
The referral process to suicide-specific, evidence-based treatment
How documentation of progress and symptom reduction will take place
Criteria and protocols for closing out a patient's Suicide Care Management Plan

For more information about designing safety planning, crisis support, and lethal means reduction interventions, click on the Patient Engagement tab above.

Implement Suicide Care Management Policies

Change systems and get staff buy-in so that policies will be followed by:

Establishing use of the EHR to monitor patients in a Suicide Care Management Plan.
Training all staff in use of the Suicide Care Management Plan features of the EHR.
In the absence of an EHR, ensuring all staff clearly document patient status in a Suicide Care Management Plan in the paper record.
Training all staff at least annually in Suicide Care Management Plan policies and protocols so they know what is expected of them and the philosophy behind these policies.
Establishing a schedule for regular team meetings and clinical case consultations to discuss patients at risk.
Setting a schedule for management to regularly review charts to determine that policies and protocols are being followed.

Experience has shown that using an EHR is a key factor in consistently engaging patients in a Suicide Care Management Plan. To learn more about how to use the EHR to monitor patients at risk for suicide, click on the Electronic Health Record tab above.
Patient Engagement

Active Engagement for Safer Suicide Care

Engaging the Patient 

Collaborating on Safety Plans

© 2018 EDC All Rights Reserved

Insights on the process of creating collaborative safety plans.

A fundamental premise of the Zero Suicide approach is that safer suicide care begins from the moment the patient calls the organization for an appointment or is admitted for treatment. For example, suicide risk immediately becomes a primary focus of assessment in a behavioral health or primary care setting if a patient indicates that he or she is currently having suicidal thoughts, has had suicidal thoughts in the past, or has made prior attempts.

Another fundamental premise is that all staff members have a crucial role in preventing suicide. At every encounter with a patient who is at risk of suicide, suicide risk should be assessed. This attention to suicidal patients by all staff members, clinical and non-clinical, requires a fundamental shift in what a health or behavioral health organization sees as its role.

Although a great deal of the focus of Zero Suicide is keeping patients safe from harm, engaging patients is not solely about making sure that they come in for sessions. The goal is for patients to grow, gain skills, and recover.

Actively engaging a patient about suicide risk includes the following:

Takes into account the individual's experiences and resources
Builds hope for recovery
Empowers the individual to resolve crises and long-term problems using the least invasive methods possible

The result of active engagement in suicide care is that the patient feels heard, cared for, and empowered to make safe decisions.

Care that focuses on suicidal thoughts and behavior may be new and even overwhelming to a patient and family. The collaborative, nonjudgmental, comprehensive approach that is part of Zero Suicide may be a very different experience for many patients with suicide risk, especially if prior treatment has failed them. Staff members will need to take care to let patients know what to expect and guide them in how to use treatment effectively.

The following sections cover the fundamentals of engaging patients in safer suicide care.

Safety Planning

All individuals identified as at risk of suicide in primary care practices and clinics, hospitals and emergency departments, behavioral health organizations, and crisis services should have a safety plan.1

Collaborative safety planning is becoming standard practice in many behavioral health organizations and health systems. A safety plan is a prioritized written list of coping strategies and sources of support developed by a clinician in collaboration with patients who are at high risk for suicide.

A safety plan should:

Be brief, in the patient's own words, and easy to read
Involve family members as full partners in the collaborative process, especially to establish their role in responding to patient crises
Include a plan for lethal means safety directly related to the specific means identified by the client. This plan should also be balanced with respect to legal and ethical requirements under federal and state laws. 
Be updated whenever warranted
Be in the patient's possession when they are released from care2

Free Training

There is a free, online course from the New York State Office of Mental Health and Columbia University that describes the collaborative safety planning intervention, explores when to work with individuals to create a safety plan, and describes the steps in creating a safety plan:

Safety Planning Intervention for Suicide Prevention Course

 

Reducing Access to Lethal Means

Every safety plan should address reduction to access to any lethal means that are available to the patient. Limiting access to medications and chemicals and removing or locking up firearms and other weapons are important actions to keep patients safe.

Reducing access to possible methods of suicide may be one of the most challenging tasks a clinician faces with a patient. The Counseling on Access to Means (CALM) online training is offered free of charge by the Suicide Prevention Resource Center. We recommend that it be required of all clinical—and in some cases non-clinical—staff members. A link to the training is provided in the Tools section.

Organization policies should clearly state what clinicians should do regarding lethal means, including the protocol to follow in the event a patient brings a weapon or other lethal means to the clinical setting. As an example, Centerstone's Securing Weapons for Suicidal/Homicidal Clients can be found in Tools. This protocol outlines the steps for clinical and non-clinical staff to take when a patient brings a lethal instrument to a session. Centerstone is a large not-for-profit provider of community-based behavioral healthcare.

Engagement Informed by Lived Experiences

© 2016 EDC All Rights Reserved

A lived experience perspective.

 

View Webinar

Safety Planning and Means Reduction in Large Health Care Organizations.
Electronic Health Record

Using the Electronic Health Record

Modifying your Electronic Health Records (Part 1)

© 2016 EDC All Rights Reserved

How Centerstone generated support for modifying the EHR.

Rationale for EHRs

Health and behavioral health organizations should take steps to ensure that a patient's suicide risk is reviewed at each visit and that care is coordinated among professionals within and outside of the organization. 

Building the capacity for tracking patients in an electronic health record (EHR) system can help to ensure that patients at risk are continuously and deliberately monitored. However, not all organizations have a comprehensive EHR system. Nevertheless, every organization should attempt to record suicide screening results, risk formulation, and suicide-specific care plans in each patient's record. Paper records should be reviewed periodically to ensure that suicide risk is being assessed and recorded by each staff member designated to do so.  

Example from the Field

The Institute for Family Health (IFH) is one organization at the forefront of using the EHR in service of a Zero Suicide initiative and providing safer suicide care.

Perhaps the most important advice from IFH's experience is to include someone from the organization's information technology (IT) department on the Zero Suicide implementation team from the very beginning.

For details on how IFH uses the EHR in suicide safer care, watch the video Modifying an EHR in which Virna Little, senior vice president for psychosocial services at IFH, describes how IFH modified their EHR to support better suicide care management.

Modifying your Electronic Health Records (Part 2)

© 2016 EDC All Rights Reserved

How Institute for Family Health modified their EHR for better suicide care.
Next Steps

Engage Patients in a Suicide Care Management Plan

The basic next steps to engage patients at risk are to:

Design policies and procedures for engaging a patient in a suicide care management plan
Change systems and create staff buy-in so that policies will be followed
Establish use of the EHR or paper record to monitor clients in a suicide care management plan.

At the same time, examine the use of electronic and/or paper health records to support these processes.

There are several additional items to help you plan these next actions:

Quick Guide to Getting Started with Zero Suicide

This one-page tool lists ten basic actions to take to implement a Zero Suicide initiative. Use this tool to get an overall vision of the path you will take to adopt this comprehensive suicide care approach.

Zero Suicide Organizational Self-Study

Every organization should complete the self-study as one of the first steps in adopting a Zero Suicide approach. While the self-study is available in the Lead section of the Zero Suicide online toolkit, it's provided again here for your convenience.

Zero Suicide Work Plan Template

This form contains an expanded list of action steps to guide your implementation team in creating a full work plan to improve care and service delivery in each of the seven core Zero Suicide components.