Screening for and Assessing Suicide Risk
In a Zero Suicide organization, all patients are screened for suicide risk on their first contact with the organization and at every subsequent contact. All staff members use the same tool and procedures to ensure that clients at suicide risk are identified. 
The standard of care in suicide risk assessment requires that clinicians conduct  thorough suicide risk assessments when patients screen positive for suicide risk and then make reasonable formulations of risk.1
One barrier to ensuring that staff are consistently screening and assessing risk is mistaken beliefs about suicide and its causes. The activity Attitudes and Beliefs about Suicide to the right demonstrates how these beliefs might produce resistance to screening and presents ideas for responding to and overcoming that resistance. 
When standardized procedures are in place to assess patients for suicide risk, staff are able to use the same language, which is understood by all, to discuss a patient's status and make plans for appropriate care. 
Full Assessment
There are three aspects of creating a full assessment of suicide risk and providing a foundation for treatment planning:
Gather complete information about past, recent, and present suicidal ideation and behavior
Gather information about the patient's context and history
Synthesize this information into a prevention-oriented suicide risk formulation anchored in the patient's life context2
The purpose of assessment is not to predict which patient might take his or her own life but, rather, to do the best job we can to increase safety, reduce risk, and promote wellness and recovery.
The following sections address the gathering of information about suicidal ideation and behavior. You'll find more information about gathering information on the patient's context and history and synthesizing a risk formulation at the tab Risk Formulation. 
Gather Information about Suicidal Thoughts and Behaviors
Different kinds of organizations and settings may use different tools, based in part on whether the organization itself will provide the comprehensive care after a patient is found to be at risk. 
PHQ
For example, once patients are found to be at risk for suicide in a primary care setting, they would often be referred for behavioral health care. In this case, a brief, basic screening tool such as a Patient Health Questionnaire (PHQ) may be used to identify at-risk patients.
The PHQ-9 is used extensively in primary care. The PHQ-9 contains nine items, and item 9 asks, "Over the past two weeks, have you been bothered by … thoughts that you would be better off dead or of hurting yourself in some way."3
Many primary care practices use a shorter version called the PHQ-2, which contains two items asking about depression symptoms. If a patient answers 'yes' to either of the PHQ-2 questions, then the PHQ-9 is administered. 
One concern about this approach is that a patient could answer 'no' to the PHQ-2 questions and still be having suicidal thoughts. In addition, the wording of item 9 is somewhat indirect—it does not directly ask about suicidal thoughts and behaviors. 
Organizations should consider adding a more direct question about suicide to the PHQ-2 and substituting that same question for question 9 in the PHQ-9 if the PHQ-9 is the only screen used. For example, a possible very brief screening for suicide risk might be:
Over the past two weeks, have you been bothered by: 
Little interest or pleasure in doing things?
Feeling down, depressed, or hopeless?4
Thoughts that you want to kill yourself, or have you attempted suicide?3
Medical providers may be able to use procedure codes for screening and assessment. For example, medical providers are able to use procedure codes for a 15-minutes screen for depression for Medicare patients.5
The SAMHSA-HRSA Center for Integrated Health Solutions offers a set of state billing and financial worksheets to help clinic managers, integrated care project directors, and billing/coding staff at community mental health centers and community health centers identify the available current procedural terminology codes they can use in their state to bill for services related to integrated primary and behavioral health care. The worksheets can be found in the Tools below.
You can find more information about the PHQ-9 at the Readings and Tools links at the bottom of this page.
 
Once it is established that a patient is having suicidal thoughts or has attempted suicide, a complete assessment of suicidal thinking and behavior, including the nature and extent of the risk, should be done immediately. 
SAFE-T
It may make sense in a different setting, such as outpatient behavioral health care clinic, to use the SAFE-T or another tool that offers a thorough assessment of the nature and extent of suicidal thoughts and behaviors. 
The more extensive items contained in the SAFE-T interview are likely to yield the detailed information needed to develop a full picture of a patient's suicide risk. The items explore:
Ideation: frequency, intensity, duration—in last 48 hours, past month, and worst ever
Plan: timing, location, lethality, availability, preparatory acts
Behaviors: past attempts, aborted attempts, rehearsals (tying noose, loading gun) vs. non-suicidal self-injurious actions
Intent: extent to which the patient, one, expects to carry out the plan and, two, believes the plan/act to be lethal vs. self-injurious. Explore ambivalence: reasons to die vs. reasons to live6
C-SSRS
The Columbia-Suicide Severity Rating Scale (C-SSRS) is another tool that can be used in many settings, including medical, inpatient, and outpatient behavioral health. The C-SSRS looks at identified suicide attempts and also assesses the full range of evidence-based ideation and behavior. It can be used in initial screenings or as part of a full assessment.7  More information about the C-SSRS is in Tools and Readings at the bottom of this page.
Free Training
There is a free, online course from the New York State Office of Mental Health and Columbia University that provides an overview of the C-SSRS instrument and teaches how and when to administer it in real world settings:
Assessment of Suicidal Risk Using the Columbia Suicide Severity Rating Scale
ASQ
The Ask Suicide-Screening Questions (ASQ) screening tool is a free resource for medical settings (emergency department, inpatient medical/surgical units, outpatient clinics/primary care) that can help nurses or physicians successfully identify youth at risk for suicide. The ASQ is a set of four screening questions that takes 20 seconds to administer and was validated for use in emergency departments with pediatric populations.8  The Ask Suicide-Screening Questions (ASQ) toolkit is designed for screening youth ages 10-24 (for patients with mental health chief complaints, consider screening below age 10); the toolkit also includes resources and tools for use in assessment and decision-making, as well for use in various settings and with additional patient populations. All ASQ resources are available free of charge and in multiple languages. In response to the increased need for telehealth tools, NIMH has also developed ASQ youth and adult telehealth screening pathways.
PSS-3
The Patient Safety Screener (PSS-3) is a three item screening tool for use in acute care settings to assist providers in screening for suicide risk. It can be administered to all patients, not only those presenting for psychiatric care. The three screening questions included in the PSS-3 pertain to depression, active suicidal ideation within the past two weeks, and lifetime suicide attempt. The tool has been validated for use in the emergency department9  with patients 18 and older, and has been implemented with patients 12 and older in both emergency department and inpatient medical settings.  Additionally, the PSS-3 is has been utilized by healthcare organizations implementing universal screening.10
Inpatient
In inpatient behavioral health treatment, the assessment process will also be unique to that setting. Even if the admission is due to suicide risk, the admission process should include a suicide risk assessment. Policies should specify not only when to physically check on a patient but also when to complete a full reassessment. Inpatient organizations may use the C-SSRS or SAFE-T questions to guide these assessments. 
Emergency Departments
The SPRC report Caring for Adult Patients with Suicide Risk: A Consensus-Based Guide for Emergency Departments provides comprehensive guidelines for screening and assessment in emergency departments (ED) and offers a quick guide tool for screening and assessment. One of the report's recommendations is that where consultation by a mental health professional is readily available, ED settings should consider asking all patients who have suicidal ideation or suspected suicide risk if they would like to have a mental health evaluation that includes a comprehensive suicide risk assessment.11
How to Choose a Screening Tool
Whatever screening tool is used, it should be given to all patients, either before they come in for a first appointment or at that first appointment. The SPRC resource Screening and Assessment for Suicide in Health Care Settings, available in Readings, provides a comprehensive discussion of the subject, with sections on expert recommendations and how to choose a screening tool.  
The Patient in the Information-Gathering Process
Health and behavioral health organizations implementing screening and assessment should attend to more than just what tool or set of questions is used. The staff person conducting the patient interview should:
Adopt a collaborative stance, reflecting empathy and genuineness
Express an understanding of the ambivalence in the patient's desire to die to relieve intolerable pain 
Engender confidence that there's an alternative to alleviating that pain and that the patient can be empowered to use care and services to do so
Treat the interview as an exploration of what has happened to the patient, not as a task to complete or an examination of what's wrong with the patient. As one person with lived experience has stated,  "Don't treat it like a checklist on a clipboard."
The National Suicide Prevention Lifeline Suicide Risk Assessment Standards, available in Tools, contains suggestions for "prompt questions" and other advice about how to elicit information from people who may be at risk for suicide.
Image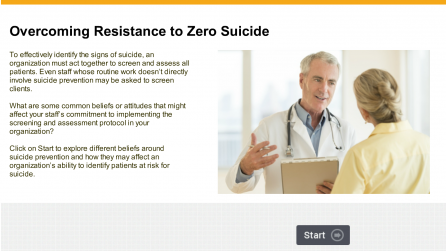 Overcoming Resistance to Zero Suicide
1.The Joint Commission. (2016). Detecting and treating suicide ideation in all settings. Sentinel Event Alert, (56). Retrieved from http://www.jointcommission.org/assets/1/18/SEA_56_Suicide.pdf
2.Pisani, A. R., Murrie, D. C., & Silverman, M. M. (2016). Reformulating suicide risk formulation: From prediction to prevention. Academic Psychiatry 40(4), 623–629. Retrieved from https://www.ncbi.nlm.nih.gov/pubmed/26667005
3. a b Spitzer, R. L., Williams, J. B. W., Kroenke, K., et al. (2001) Patient health questionnaire-9 (PHQ-9). Retrieved from http://www.phqscreeners.com/sites/g/files/g10016261/f/201412/PHQ-9_Engl…
4.Kroenke K., Spitzer R. L., & Williams J. B. (2003). The patient health questionnaire-2: Validity of a two-item depression screener. Medical Care, 41(11), 1284–1292. Retrieved from https://www.ncbi.nlm.nih.gov/pubmed/14583691
5.U.S. Department of Health & Human Services, Centers for Medicare & Medicaid Services. (2016). Medicare preventive services. Retrieved from https://www.cms.gov/Medicare/Prevention/PrevntionGenInfo/Downloads/MPS-…
6.Department of Health and Human Services, Substance Abuse and Mental Health Services Administration. (2009). SAFE-T (HHS Publication No. [SMA] 09-4432). Retrieved from http://store.samhsa.gov/shin/content//SMA09-4432/SMA09-4432.pdf
7.Research Foundation for Mental Hygiene, Columbia Lighthouse Project. (2008). Columbia suicide severity rating scale. Retrieved from http://cssrs.columbia.edu/
8.Horowitz, L. M., Bridge, J. A., Teach, S. J., Ballard, E., Klima, J., Rosenstein, D. L., ... & Pao, M. (2012). Ask Suicide-Screening Questions (ASQ): a brief instrument for the pediatric emergency department. Archives of pediatrics & adolescent medicine, 166(12), 1170-1176. Retrieved from https://jamanetwork.com/journals/jamapediatrics/fullarticle/1363508
9.Boudreaux, E. D., Jaques, M. L., Brady, K. M., Matson, A., & Allen, M. H. (2015). The Patient Safety Screener: Validation of a Brief Suicide Risk Screener for Emergency Department Settings. Archives of Suicide Research, 19(2), 151–160. doi: 10.1080/13811118.2015.1034604
10.Boudreaux, E. D., Camargo, C. A., Arias, S. A., Sullivan, A. F., Allen, M. H., Goldstein, A. B., … Miller, I. W. (2016). Improving Suicide Risk Screening and Detection in the Emergency Department. American Journal of Preventive Medicine, 50(4), 445–453. doi: 10.1016/j.amepre.2015.09.029
11.Suicide Prevention Resource Center. (2015). Caring for adult patients with suicide risk: A consensus guide for emergency departments. Waltham, MA: Education Development Center. Retrieved from http://www.sprc.org/sites/default/files/EDGuide_full.pdf