Interventions for Suicide Risk
Evidence-Based Psychological Treatments
© 2018 EDC All Rights Reserved
The evidence-based treatments available for care.
Care for suicide risk should directly target and treat suicidal thoughts and behaviors and behavioral health disorders using effective, evidence-based treatments. 
Some interventions that might be more accurately designated as research-informed are also included in the standard of care for suicide prevention. Research-informed interventions are based on research and theory and perhaps even have components that are evidence-based, but they do not have a body of research showing effectiveness.
Evidence-Based Interventions
Evidence-based interventions include interventions and treatment that are designed to target suicide risk directly. These interventions have demonstrated effectiveness in reducing suicidal thoughts and behaviors. 
At this time, only a few interventions are supported by research. In the video above, David Jobes, PhD, a clinician-researcher at Catholic University of America, provides a quick overview of these interventions:
Structured, problem-solving therapies
Collaborative assessment and treatment planning1
Non-demand "caring contacts"
Whichever specific model is used, interactions with patients should always be person-centered, collaborative, and careful to acknowledge the ambivalence that patients contemplating suicide risk often feel. Understanding that ambivalence—the desire to find a solution to the intense pain they feel versus the innate human desire to live—is essential for any clinician working with a patient at risk of suicide. 
 
The following sections provide more detail about the interventions Dr. Jobes describes. You'll find links to resources about these interventions in the Readings and Tools section at the bottom of this page.
Cognitive Behavioral Therapy for Suicide Prevention 
This intervention, known as CBT-SP, is theoretically grounded in principles of cognitive behavior therapy (CBT); dialectical behavioral therapy (DBT); and targeted therapies for suicidal, depressed adolescents and adults.
Two studies tested the efficacy of this intervention: one study with adults, which found reductions in attempts and symptoms, and a second study demonstrating the feasibility of using a similar intervention with adolescents.2 ,3  In Brown and colleagues' (2005) research with adults, a 10-session cognitive therapy intervention focused specifically on identifying proximal suicidal thoughts, images, and core beliefs activated before a suicide attempt. Subsequently, Stanley, Brown, and colleagues (2009) manualized a cognitive therapy intervention specifically for adolescent suicide attempters, called Cognitive Behavioral Therapy for Suicide Prevention (CBT-SP).
CBT-SP can be used with adults and adolescents and includes:
Cognitive restructuring strategies, such as identifying and evaluating automatic thoughts from cognitive therapy
Emotion regulation strategies, such as action urges and choices, emotions thermometer, index cue cards, mindfulness, opposite action, and distress tolerance skills from DBT
Other CBT strategies, such as behavioral activation and problem-solving strategies3
Because adolescents' suicidal crises occur within an environment that may include problematic relationships, abuse, family dysfunction, or poor school performance, CBT-SP includes family interventions if needed. 
Dialectical Behavior Therapy (DBT) 
The term dialectical means a synthesis or integration of opposites, and in DBT, it refers to the seemingly opposite strategies of acceptance and change. 
DBT has four components, although these may be adjusted in practice to suit specific circumstances: 
A skills training group meeting once a week for 24 weeks 
Individual treatment once a week, running concurrently with the skills group
Phone coaching, upon request by the client
Consultation team meetings—a kind of "therapy for the therapists"4
Numerous research studies, including several randomized control trials, have shown DBT to be effective in reducing suicidal behavior and other behavioral health issues. For example, Linehan et al. (2006) compared one year of DBT with women with borderline personality disorder and two or more suicide attempts and/or self-injuries in the past 5 years and at least one in the past 8 weeks to non-behavioral community treatment by experts. Those receiving DBT were significantly less likely to 
Drop out of treatment
Attempt suicide 
Visit psychiatric emergency rooms
Experience psychiatric hospitalization5
Collaborative Assessment and Management of Suicidality 
Collaborative Assessment and Management of Suicidality (CAMS) is an intensive psychological treatment that is suicide-specific, helping patients develop other means of coping and problem-solving to replace or eliminate thoughts of suicide as a coping strategy. CAMS focuses on treating suicide 'drivers' that make someone want to die and works to strengthen the therapeutic alliance and increase patient motivation. One of the core values of the CAMS model is that most suicidal patients can be treated effectively in outpatient settings.
CAMS is designed for outpatient care settings and has been used successfully in outpatient and inpatient settings as well as with college students and military personnel.
A central element of CAMS is having the patient complete portions of a "Suicide Status Form" in collaboration with the clinician. This form is used in every session to both assess risk and document the patient's treatment plan. The use of this form helps the clinician to create ongoing documentation related to the suicide risk assessment, treatment planning, and clinical follow-through related to both. The treatment also uses the CAMS Stabilization Plan to reduce access to lethal mean and increase coping strategies.
CAMS is supported by over 30 years of clinical research, multiple correlation studies, and five published randomized controlled trials. It has shown significant impact on:
Please visit the Evidence-Base Treat page on our website or the CAMS website for more information about this research.
Research-Informed Interventions 
© 2017 EDC All Rights Reserved
Aligning evidence-based programs with Indigenous ways of life.
The standard of care for patients with suicide risk includes some interventions that may be informed by research and clinical practice but do not have a body of research to support them. 
Safety planning and lethal means reduction are two such interventions. 
Safety Planning 
A safety plan is a prioritized written list of coping strategies and sources of support developed by a clinician in collaboration with patients who are at high risk for suicide.12
As discussed in Dr. Barbara Stanley's webinar presentation (available below), safety planning incorporates elements of four evidence-based suicide risk reduction strategies: 
Reducing access to lethal means 
Teaching brief problem-solving and coping skills 
Enhancing social support and identifying emergency contacts 
Using motivational enhancement to increase likelihood of engagement in further treatment 
A safety plan is not a "no-suicide contract," which is not recommended by experts in the field of suicide prevention. As they are generally used, no-suicide contracts ask patients to promise to stay alive without telling them how to stay alive. No-suicide contracts have no evidence to support their use and are not recommended by experts in the field of suicide prevention. 
Additional information about safety planning, including a webinar and training module, can be found in the Engage section of the Toolkit. 
Non-Demand Caring Contacts 
A growing body of evidence suggests that post-discharge follow-up contacts with high-risk individuals may be an effective suicide prevention strategy. While non-demand, caring contacts are not treatment per se, they can be used as adjuncts to treatment to:
Keep patients engaged
Follow up with patients who are difficult to engage
Extend the connection between provider and patient after treatment has ended 
Caring contact interventions include:
Postcards and/or letters containing brief expressions of caring  
Telephone follow-up contacts with patients after discharge 
Telephone calls combined with in-person contact13
Organizations can use automated systems to send postcards, letters, e-mails, or text messages.14
Reducing Access to Lethal Means 
Limiting access to medications and chemicals and removing or locking up firearms and other weapons are important actions to keep patients safe.15
Reducing access to lethal means is based on the following suppositions:
Many suicide attempts occur with little planning during a short-term crisis 
Intent isn't all that determines whether an attempter lives or dies; means also matter 
90% of attempters who survive do NOT go on to die by suicide later 
Access to firearms is a risk factor for suicide
Firearms used in youth suicide usually belong to a parent
Reducing access to lethal means saves lives16
Reducing access to possible methods of suicide may be one of the most challenging tasks a clinician faces with a patient. Organization policies should clearly state what clinicians should do regarding lethal means, including the protocol to follow in the event a patient brings a weapon or other lethal means to the clinical setting. More information about reducing access to lethal means, including a webinar and a link to online training, can be found in the Engage section of the Toolkit.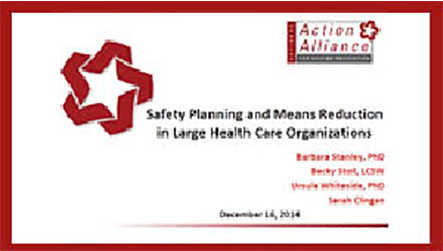 Safety Planning and Means Reduction in Large Health Care Organizations.
1.Jobes, D. A. (2012), The collaborative assessment and management of suicidality (CAMS): An evolving evidence-based clinical approach to suicidal risk. Suicide and Life-Threatening Behavior, 42(6), 640–653. http://onlinelibrary.wiley.com/doi/10.1111/j.1943-278X.2012.00119.x/abs…
2.Brown, G. K., Ten Have, T., & Henriques, G. R. (2005). Cognitive therapy for the prevention of suicide attempts: A randomized controlled trial. JAMA, 294(5), 563–570. Retrieved from http://jamanetwork.com/journals/jama/fullarticle/201330
3. a b Stanley B., Brown, G., Brent, D. A., Wells, K., Poling, K., Curry J., . . . Hughes, J. (2009). Cognitive behavioral therapy for suicide prevention (CBT-SP): Treatment model, feasibility and acceptability. Journal of the American Academy of Child & Adolescent Psychiatry, 48(10), 1005–1013.
4.Linehan, M. M. (2015). DBT skills training manual (2nd ed.). New York, NY: Guilford Press. Retrieved http://behavioraltech.org/resources/whatisDBT.cfm
5.Linehan, M. M., Comtois, K. A., Murray, A. M., Brown, M. Z., Gallop, R. J., Heard, H. L., . . . Lindenboim, N. (2006). Two-year randomized controlled trial and follow-up of dialectical behavior therapy vs therapy by experts for suicidal behaviors and borderline personality disorder. Archives of General Psychiatry, 63(7), 757–766. Retrieved from http://jamanetwork.com/journals/jamapsychiatry/fullarticle/209726
6. a b Ryberg, W., Zahl, P-H., Diep, L.M., Landrø, N.I., & Fosse, R., (2019). Managing suicidality within specialized care: A randomized controlled trial. Journal of Affective Disorders, 249: 112-120. https://cams-care.com/wp-content/uploads/2019/07/Ryberg-et-al-CAMS-RCT….
7. a b c Swift, J.K., Trusty, W.T., and Penix, E.A. (2021). The effectiveness of the Collaborative Assessment and Management of Suicidality (CAMS) compared to alternative treatment conditions: A meta-analysis. Suicide and Life-Threatening Behavior. DOI: 10.1111/sltb.12765
8.Andreasson, K., Krogh, J., Wenneberg, C., Jessen, H. K. L., Krakauer, K., Gluud, C., & Nordentoft, M. (2016). Effectiveness of dialectical behavior therapy versus collaborative assessment and management of suicidality treatment for reduction of self-harm in adults with borderline personality traits and disorder – A randomized observer-blinded clinical trial. Depression and Anxiety, 33(6). https://pubmed.ncbi.nlm.nih.gov/26854478/.
9.Jobes, D.A., Comtois, K.A., Gutierrez, P.M., Brenner, L. A., Huh, D., Chalker, S.A., Ruhe, G., Kerbrat, A.H., Atkins, D.A., Jennings, K., Crumlish, J., Corona, C.D., O'Connor, S., Hendricks, K.E., Schembari, B., Singer, B., & Crow, B. (2017). A randomized controlled trial of the collaborative assessment and management of suicidality versus enhanced care as usual with suicidal soldiers. Psychiatry, 80: 339-356. https://cams-care.com/wp-content/uploads/2018/04/Jobes-Comtois-Gutierre….
11.Jobes, D. A., Wong, S. A., Conrad, A., Drozd, J. F., & Neal-Walden, T. (2005). The Collaborative Assessment and Management of Suicidality vs. treatment as usual: A retrospective study with suicidal outpatients. Suicide and Life-Threatening Behavior, 35(5), 483–497.: https://pubmed.ncbi.nlm.nih.gov/16268766/.
12.Stanley, B., & Brown, G. K. (2012). Safety planning intervention: A brief intervention to mitigate suicide risk. Cognitive and Behavioral Practice, 19(2), 256–264. Retrieved from http://www.suicidesafetyplan.com/uploads/Safety_Planning_-_Cog___Beh_Pr…
13.Luxton, D. D., June, J. D., & Comtois, K. A. (2013). Can postdischarge follow-up contacts prevent suicide and suicidal behavior? Crisis, 34(1), 32–41. Retrieved from https://www.ncbi.nlm.nih.gov/pubmed/22846445
14.Berrouiguet, S., Gravey, M., Le Galudec, M., Alavi, Z., & Walter, M. (2014). Post-acute crisis text messaging outreach for suicide prevention: A pilot study. Psychiatry Research, 217(3), 154–157. Retrieved from https://www.ncbi.nlm.nih.gov/pubmed/24736112
15.Mann, J. J., Apter, A., Bertolote, J., Beautrais, A., Currier, D., Haas, A., ... & Mehlum, L. (2005). Suicide prevention strategies: A systematic review. Jama, 294(16), 2064–2074. Retrieved from http://www.daveneefoundation.org/wp-content/uploads/Suicide-Prevention-…
16.Zalsman, G., Hawton, K., Wasserman, D., van Heeringen, K., Arensman, E., Sarchiapone, M., ... & Purebl, G. (2016). Suicide prevention strategies revisited: 10-year systematic review. The Lancet Psychiatry, 3(7), 646–659. Retrieved from http://www.thelancet.com/journals/lanpsy/article/PIIS2215-0366(16)30030…