How to use the Zero Suicide Toolkit resources
The Zero Suicide model operationalizes the core components necessary for health care systems to transform suicide care into seven elements.
Navigate the Zero Suicide Toolkit℠ resources by clicking on an element below. Within each element section, find a description of what each element is, why it is necessary to Zero Suicide implementation, a summary of supporting research, and key readings and tools. Use the navigation bar that appears at the top of each element page to jump between sections.
Image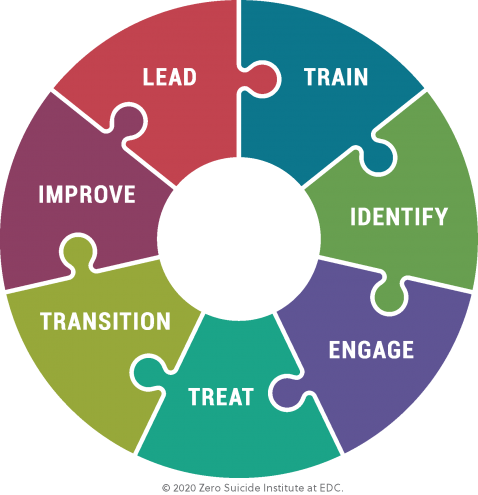 Zero Suicide Toolkit
The Toolkit uses research, tools, and videos to walk implementers through putting the Zero Suicide framework into practice.
Image

Lead
system-wide culture change committed to reducing suicides
Image

Train
a competent, confident, and caring workforce.
Image

Identify
individuals with suicide risk via comprehensive screening and assessment
Image

Engage
all individuals at risk of suicide using a suicide care management plan
Image

Treat
suicidal thoughts and behaviors using evidence-based treatments
Image

Transition
individuals through care with warm hand-offs and supportive contacts
Image

Improve
policies and procedures through continuous quality improvement